ICPAC launches East African Climate Action awards on the run-up to COP26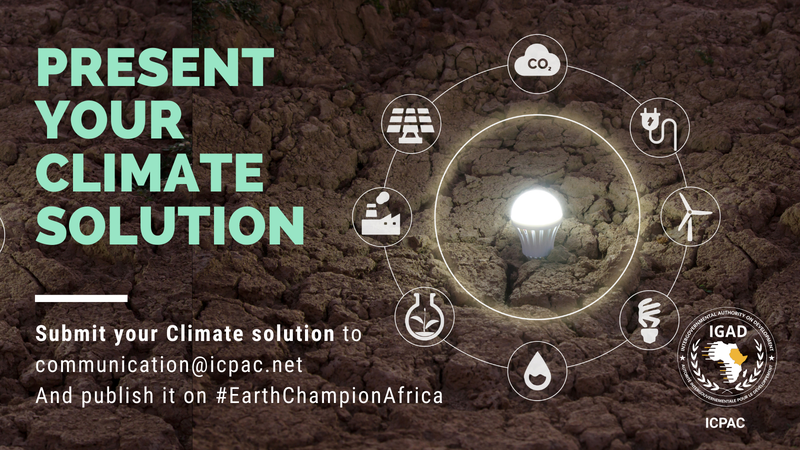 Why now?
This regional Climate Action Awards aim at giving visibility to local mitigation and adaptation solutions from Eastern Africa. In a context of a global Climate Emergency, there is a need to give visibility to viable and scalable solutions. The Awards aim at recognizing innovative East African initiatives that are already contributing to #NetZero and supporting resilience building.
Summary
The campaign builds on the UNFCCC Climate Action Awards (Climate Neutral Now) and aims at showcasing successful solutions that can accelerate the transition to low carbon economies in Eastern Africa.
The campaign is part of a wide effort to mobilize climate action and ambition, as governments work toward implementing the Paris Climate Change Agreement and the Sustainable Development Goals and to increase the visibility of African solutions.
Participants to the Climate Action awards will submit their solution to a category:
Climate Neutral Now (Smart Cities, Smart Agriculture, Nature-Based Solutions, Transport and Energy, Software and Data)
Financing for Net Zero
Women for results
Youth for Climate
Media for Climate (Radio, TV, multimedia, web, Art, Music)
Prizes
The winners of the Climate Action Awards will become Earth Ambassadors in the East Africa region. The winner in each category will be featured in a video documentary to be presented during COP26. In the category "Youth for Climate" and "Media for Climate", the winners will be awarded with a Podcast kit.
How do I submit my initiative?
Submit your initiative to communication@icpac.net, and publish it on Twitter under the Hashtag #EarthChampionAfrica before the 30th of July tagging @icpac_igad.
Timeline
Submissions have to be sent before the 30th of July, 2021. Winners will be announced on August 30th, 2021.
Criteria to select winners
Initiatives will be evaluated by an international advisory panel, who will evaluate the submissions based on:
Contributions to Net Zero carbon emissions
Innovation and creativity
For the Youth and Media, periodicity, consistency in reporting, and the capacity to engage audiences and lead change
Scalability
Hashtags
#NetZeroAfrica
#MyClimateStory
#EarthChampionAfrica
Acknowledgments